Collection: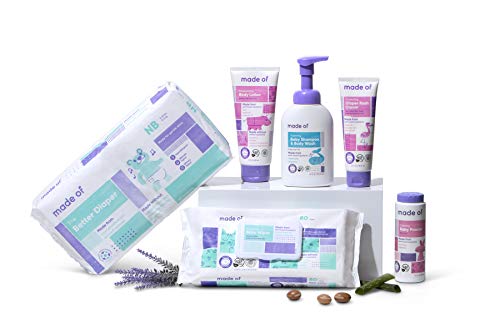 Collection:
Made Of Organic Baby Shampoo and Body Wash
Made Of Organic Baby Shampoo and Body Wash
Regular price

Sale price

$12.99
Features:
★ UNLIKE OTHER "GENTLE" INFANT BODY WASH brands that IRRITATE and DRY OUT DELICATE BABY SKIN with harsh CHEMICALS, MADE OF plant-based Organic Baby Shampoo and Body Wash NEVER USES ARTIFICIAL INGREDIENTS & is formulated with organic JOJOBA & CALENDULA OIL to keep baby's skin soft by REPLENISHING MOISTURE, while our NATURAL, SULFATE-FREE ingredients GENTLY CLEANSE baby's SENSITIVE SKIN without stripping it of natural oils, so baby will always emerge from bathtime NATURALLY SOFT & CLEAN!
★ ALL-NATURAL INGREDIENTS PROVEN TO SOOTHE AND PROTECT. We've selected only the BEST NATURAL OILS AND EXTRACTS perfect for a baby's unique needs – such as calendula, an oil extracted from marigold flowers known to prevent & curb flakes from CRADLE CAP. Anti-inflammatory chamomile soothes REDNESS and IRRITATION & helps your little one's skin stay protected from free radicals. Made from 77% ORGANIC & 23% NATURAL ingredients, NSF Organic Standard Certified, EWG Verified, and made in the USA.
★ MANY GENTLE BABY WASH BRANDS DON'T RINSE "CLEAN," leaving a HEAVY RESIDUE on your little one's sensitive skin and hair. Our foaming baby organic shampoo is formulated to CLEANSE EFFECTIVELY while NOURISHING your baby's skin and hair. With calendula oil and caprylic acid – a beneficial, protective fatty acid found in coconut oil – our baby soap organic WASHES AWAY DIRT AND GERMS while soothing the skin to help with CONDITIONS LIKE DRY SKIN, BABY ECZEMA & CRADLE CAP.
★ WHAT IS ULTIMATE TRANSPARENCY? Exactly what it sounds like. MANY BRANDS MAKE CLAIMS, WE BACK OURS UP with test results for all baby organic products. MADE OF organic baby body wash and shampoo products are NON-GMO, soy & nut-free, phthalate-free, PARABEN-FREE & SULFATE-FREE, with no artificial ingredients. NSF Organic Standard Certified, EWG Verified and USA-made. Every product is DERMATOLOGIST & PEDIATRICIAN APPROVED, and backed by TEST RESULTS. Because PARENTS HAVE THE RIGHT TO KNOW.
★ AT MADE OF, WE SET OUT TO solve the greenwashing problem of BRANDS MISREPRESENTING how green or safe their baby body wash or sulfate free shampoo is. While other organic baby essentials companies are honest, WE'RE TRULY TRANSPARENT, with UNCOMPROMISING CORE VALUES IN LINE WITH your own parental values. It starts with core values & THEN THE INGREDIENTS FOLLOW. If they don't meet our standards, we don't sell them. Period. MADE OF means MADE BETTER. MADE SAFER. Made with NOTHING TO HIDE.
Organic Baby Wash and Shampoo by MADE OF is made to be an effective and gentle baby wash. Know that when you bathe your little one, it's not a dip in a bunch of toxic chemicals you can't even pronounce. Simple streamlined formulas from plant based ingredients in baby personal care products that just do the job right. MADE OF Foaming Organic Baby Shampoo and Body Wash is sulfate-free, so it doesn't strip the precious natural oils from baby's skin that protect against irritation. A natural formula with soothing organic herbs, like chamomile and calendula, to completely cleanse and get rid of bacteria. Also helps to prevent and curb flakes from "cradle cap." Non-GMO, soy-free, nut-free, phthalate-free, paraben-free, sulfate-free, vegan, and no synthetic fragrances or artificial ingredients. EWG, Leaping Bunny, USDA Biobased Product and NSF Organic Standard Certified. MADE OF ULTIMATE TRANSPARENCY PROMISE: For millions of parents who need real evidence to back up "natural" and "organic" claims. Learn where every ingredient originated and it's USDA certificate, review actual testing results and see where the product was manufactured.