Collection: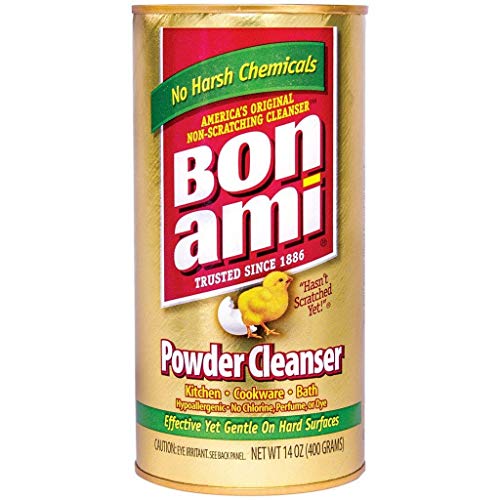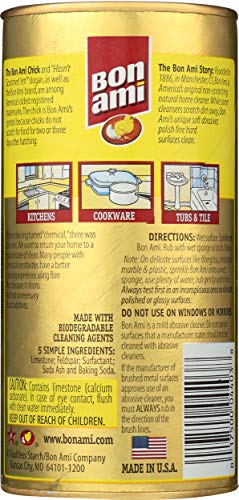 Collection:
Bon Ami, Cleanser, 14 Ounce
Bon Ami, Cleanser, 14 Ounce
Regular price

Sale price

$1.59
CCC: my go-to toilet bowl cleaner! 
Features:
We strive to make our powder cleanser earth-friendly. Made with renewable corn & coconut oils.
We have created a household cleaner that is hypoallergenic & contains no chlorine, perfume or dye.
Our multi-purpose cleaner is nonabrasive & has been trusted since 1886 to clean without scratching.
Great on granite, ceramic tiles, chrome, porcelain, stainless steel, copper, cooktops & brass.
We made all-purpose cleanser powder clean all surfaces and also absorb odors with baking soda.
Details: Bon Ami Powder Cleanser, trusted since 1886 for cleaning without scratching, still 'Hasn't Scratched Yet.'(R) Bon Ami easily cleans kitchen, bath and other surfaces. Bon Ami uses feldspar and limestone as gentle, effective abrasives and combines them with more sustainable cleaning agents from renewable corn, coconut, and palm oils. Plus we've added a touch of baking soda to help absorb odors. Bon Ami Powder Cleanser's label is a bold interpretation of the classic red banner and Bon Ami's famous just-hatched-chick. This is one of the most eco-friendly cleaners on store shelves. It is hypoallergenic and contains no chlorine, perfume, or dye. Bon Ami truly is: America's Original Natural Home Cleaner.
Package Dimensions: 5.9 x 2.8 x 2.8 inches