Collection: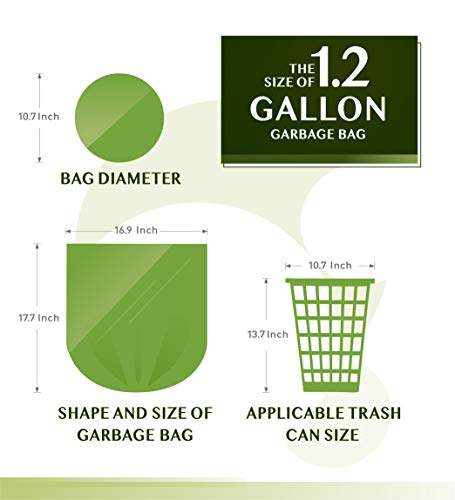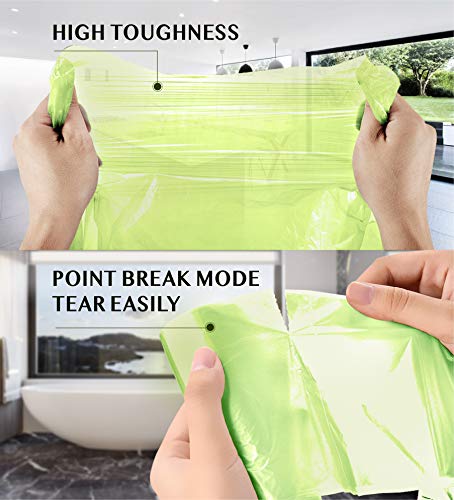 Collection:
Compostable Trash Bags
Compostable Trash Bags
Regular price

$17.90

Sale price

$14.94
CCC: you will need trash bags in your diaper bag for on the go blowouts - trust me! 
Features:
🌱【PERFECT TRASH BAGS SIZE】The size of 1.2 Gallon trash bags is (L*W)16.9 * 17.7 inch.Fit round garbage bins with diameter ≤ 10.7",height ≤ 13.7",rectangular wastebaskets with longest side ≤ 8" and height ≤ 13.7".Suitable for most small bins in the U.S.
🌱【U.S.& EUROPE CERTIFICATION】Our small trash bags are certified by the BPI Products Institute according to the American standard ASTM D6400. And passed the European standard EN 13432, and obtained the OK COMPOST HOME certification.
🌱【STRONG & DURABLE Garbage Bags】Each trash can liners is sealed with an octagonal bottom at a high temperature of 230℃.Tested to withstand at least 26LB (12kg). Good strength, it is not easy to tear and doesn't leak when the wet garbage is loaded.
🌱【COMPOSTABLE TRASH BAGS】The compostable trash bags is made of plant starch material (PSM), which can be broken down by microorganisms in nature without causing damage to the environment. These are odorless, non-toxic, pure compostable bags.
🌱【MULTIPURPOSE TRASH BAGS】The compostable bags is clear green, which helps us identify the content of the garbage, so as to better sort the garbage. It is suitable for offices, kitchens, bathrooms, bedrooms, living rooms, baby diapers and garbage recycling.
Details: Do you want to do something meaningful? Start by choosing a compostable trash bags. What is a compostable garbage bags?. The material of the compostable trash bags is made of plant starch material (PSM), this is a new type of environmentally friendly material based on natural renewable resources such as plant starch (corn starch). In the case of composting, it is naturally degraded by microorganisms within six months. After degradation, it releases water and carbon dioxide, returns to the ecosystem, completes the organic cycle, and greatly reduces pollution. Why choose FORID compostable bags? Extraordinary load-bearing capacity Compared to other can liners that are easy to tear and leak. In the manufacturing process, we all use octagonal sealed bottoms at 230℃, which greatly improves the toughness of the small garbage bags. They have been tested and can withstand a maximum weight of 26 pounds (12 kg), which is sufficient for daily life. Compared with other mini trash bags, it is thicker, lighter, not easy to break, puncture resistant, and can be used for food waste. Odorless and easy to use Our compostable bags are made of natural plant starch, without any unpleasant odors , and are non-toxic and harmless to the human body. In addition, it can effectively control the odor in the compost bags. A breakpoint process is used between the compostable trash bags, and it can be taken by simply tearing it off without worrying about breaking any one. Breakpoints are clear and tidy, easy to tear, high temperature sealing to prevent tearing and handle the heaviest load. Tips: Please store the product in a cool, dry place, away from high temperature and humid place. Because of sunlight, water and high temperatures can cause the bag to be decomposed. Can be stored under normal circumstances for at least three years.