Collection: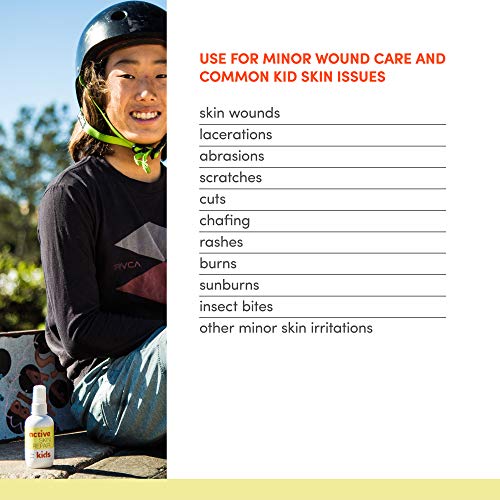 Collection:
Kids Active Skin Repair Spray
Kids Active Skin Repair Spray
Regular price

Sale price

$24.99
CCC: use instead of Neosporin, aquaphor and vaseline! 
Features:
PEDIATRICIAN RECOMMENDED & CLINICALLY PROVEN KIDS SKIN SPRAY: The technology used in ACTIVE Skin Repair's Kids Spray is the same safe & gentle molecule used in hospitals and households worldwide.
SAFE, NATURAL, NON-TOXIC, AND NO STING: ACTIVE Skin Repair's Kids Spray is natural and non-toxic and also non-sensitizing. Contains no steroids, no synthetic antibiotics, no alcohol and no harsh or stinging chemicals.
DAILY SOLUTION FOR KIDS SKIN CARE: ACTIVE Skin Repair Kids Spray helps children recover by treating cuts, scrapes, rashes, sunburns, and other skin irritations.
SAFE ON KIDS | TOUGH ON GERMS: ACTIVE Skin Repair's Kids first aid spray is a medical grade spray. While this spray is non-toxic and safe to use on sensitive areas, it is also helps to support the body's natural healing process.
BETTER OPTIONS FOR A HEALTHIER WORLD: At ACTIVE Skin Repair, we are committed to bringing cutting-edge medical technologies to consumers for treating wounds, cuts, burns, scars, infections, and more. FSA | HSA ELIGIBLE: Use your Flexible Spending Account or Health Saving Account card to purchase. MONEY-BACK GUARANTEE: Love it or simply return for a full refund.
Details: This Active Skin Repair Kids Spray is perfect for treating children with cuts, scrapes, scratches, bruises, rashes, and other skin irritations. Its formula is made up of natural ingredients to replicate the same molecule your white blood cell produces through a proprietary manufacturing process. Active Skin Repair helps support the body's natural healing process on those cuts and wounds. The spray can be used on the entire body including around the eyes, ears, mouth, and other sensitive areas. Additionally, the spray is non-toxic and non-sensitizing meaning there is no sting that comes along during application! Take your child's skin repair treatment to the next level with Active Skin Repair. Active Skin Repair has become a verified brand with the Think Dirty App. Think Dirty measures different products and evaluates their ingredients based on cleanliness and health impact. Active Skin Repair received a PERFECT score of zero (0) from Think Dirty after manually verifying all ingredients. This score means "Product does not contain any ingredients which have a documented potential negative health impact". The technology used in ACTIVE Skin Repair's wound care line is the same doctor-recommended and clinically proven formulation used in hospitals worldwide. TSA Approved Simplify your first aid kit down to a convenient and easy to pack 3oz TSA-Approved bottle. Bulky, toxic first aid products are a thing of the past, the future is our 3oz multi-functional first aid gel and first aid spray. Clinically Proven Regenerative Technology The Power of ACTIVE Skin Repair's regenerative technology lies in our active ingredient: hypochlorous (HOCl). HOCl is naturally produced by the white blood cells in our body as a way to support the body's natural healing process. For the first time, this clinically proven regenerative technology allows you to externally treat everyday skin damage using the same molecule that your body uses internally.