Collection: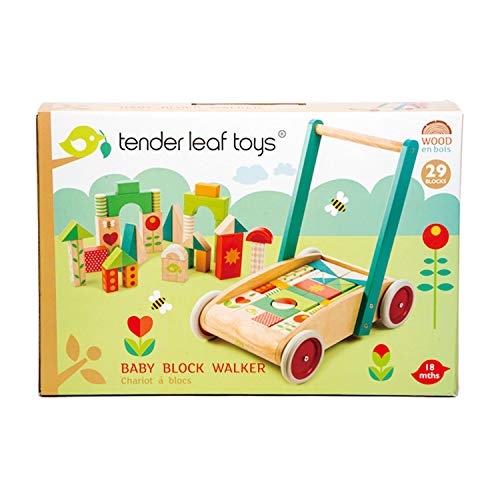 Collection:
Tender Leaf Toys Baby Block Walker
Tender Leaf Toys Baby Block Walker
Regular price

Sale price

$79.99
Brand: Tender Leaf Toys
Features:
MODERN TODDLER WALKER & CART SET - Is the perfect walker for your busy toddlers and comes with an assortment of beautiful garden themed wooden blocks in varying shapes and sizes. Essential wooden toy addition to any toy box.
HELPS DEVELOP BALANCE, STRENGTH & CREATIVE PLAY - Watch your little one take their first steps with our modern version of the classic baby walker. Made from high quality wood, the handle is sturdy enough for toddlers to lean on.
COMPLETE SET INCLUDES - 29 garden themed wooden blocks for extra play and creative construction. Product size: 16.34" x 11.22" x 16.54"
MADE FROM A RENEWABLE RESOURCE - For every tree that becomes a beautiful toy, another is replanted. Adorned with Non Toxic Water Based Paint to keep your little one safe.
DESIGNED IN GREAT BRITAIN AND MADE IN INDONESIA - Quality and safety is the most important part of our designs at Tender Leaf Toy. Each Toy is made with concern for your child's well being and education. Only the best for your little ones.
Details: Tender Leaf Toys Baby Block Wooden Walker - Includes 29 Garden Themed Wooden Toy Blocks - Premium Quality Construction - Develops Balance, Strength & Creative Play - 18 Month + Classic wooden walker function- great for fine motor development, logic and problem solving. Easy to move around, with toy blocks. This fabulous Wooden walker features 29 different themed wooden toy blocks. Perfect for free exploration around the house! It helps children to develop their problem solving skills and learn how to fit the different blocks in the walker. Tender Leaf Toys creates gentle, beautifully designed toys that promote learning through play. Our toys are traditional in concept with contemporary design and all our products are made with a distinct focus on craftsmanship and quality. Designed in the UK, all of our products start with original sketches before they are sampled and then coloured and finally tested. With our unique blend of soft cotton fabric, gentle non toxic water stain combined with sustainable rubber wood / high quality plywood, Tender Leaf Toys makes the perfect gift and looks stylish around the modern playroom or nursery. WE place a strong focus on child development - physical, social, creative, and imaginative play are integral to all our products. We test for ages 18 months and 3 years + Our manufacturing processes, starting from cutting, painting, and drying of the wood, are all undertaken at the same factory location in Indonesia. We have been awarded the ICTI seal of approval and strive to maintain ethically high standards throughout our organisation. We care about children's future and the future of our planet. All of our toys are made from sustainable rubberwood and for every tree that becomes a beautiful toy, another is replanted. All of our toy products meet the European and American standard safety of toys according to EN71, CPSC and ASTM.