Collection: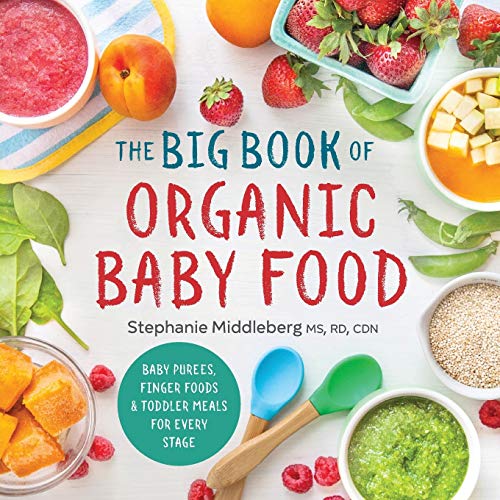 Collection:
The Big Book of Organic Baby Food: Baby Purées, Finger Foods, and Toddler Meals For Every Stage
The Big Book of Organic Baby Food: Baby Purées, Finger Foods, and Toddler Meals For Every Stage
Regular price

$16.99

Sale price

$14.79
CCC: a must for the "stage" approached method to starting solids. great organic recipes from purées to toddler meals. can also be used by blw families. great vegeterian and vegan recipes! 
Author: Middleberg MS RD CDN, Stephanie
Binding: Paperback
Number Of Pages: 296
Release Date: 18-10-2016
Details: Product Description ORGANIC YUMMINESS FOR ALL YOUR BABY'S STAGES. This baby food cookbook is the one that does it all. Natural, organic, and irresistible recipes take your baby from infant to toddler and beyond. Ideas for purees, smoothies, finger foods, and meals abound. To top it off, you get nutritious, crave-worthy recipes to satisfy both your little one and your big ones. From Sweet Potato Puree to Pumpkin Smoothies to Maple-Glazed Salmon with Roasted Green Beans, The Big Book of Organic Baby Food offers over 230 healthy and wholesome recipes. This baby food cookbook will serve you for years. A baby food cookbook and more, The Big Book of Organic Baby Food contains: Ages and Stages—Each chapter covers developmental changes and FAQs to inform your nutritional decisions. Purees, Smoothies, Finger Food—Choose from more than 115 puree recipes and over 40 smoothie and finger food ideas. Family Fare—With 70+ recipes that will please all palates, this baby food cookbook goes way beyond baby food. The Big Book of Organic Baby Food is the only baby food cookbook to feed the growing needs and tastes of your entire family. Review As a mom and RD, I've always taken the role of family chef very seriously. I wish this book was around when my kids were first sitting down to the table, ready to eat their first bites of real food. The photos are stunning, the advice is practical, and Stephanie's recipes are delicious!—Joy Bauer, MS, RD, health and nutrition expert for NBC's TODAY show and best-selling author of From Junk Food to Joy Food New parents always need the best, most thorough science-based info about what to do for their baby. They also want loving, gentle advice and encouragement from someone who's been there. Stephanie Middleberg's beautiful, comprehensive book does both. You bet I'm buying a copy for all of my new-mom friends!—Beth Lipton, Health Magazine Food Director You want to know what to feed your baby, what not to, when to, and how to do it all―and therein lies the magic of The Big Book of Organic Baby Food―you get all this fed to you in one book full of beautiful, delicious recipes and better nutrition content to support you. What a gift!—Ashley Koff RD, The Better Nutrition Simplified Program Don't be fooled by all the talk about babies, if your kids are grown or just a gleam in your eye, grab this book, stock your kitchen and quickly get comfortable with prepping and eating healthy food. There's no excuse now, Stephanie shows us that it's fast, economical, and fun to create organic family meals. Delight in dining, and joyful times around the table are nutritionally important and a psychological safeguard against future eating disorders.—Melanie A. Katzman, PhD About the Author STEPHANIE MIDDLEBERG, MS, RD, CDN is the founder and owner of Middleberg Nutrition. Stephanie and her team of registered dietitians offer nutritional counseling, consulting, and cooking classes to individuals and families. Outside of work, Stephanie enjoys playing with her toddler Julian, jogging with her husband Andrew, and concocting recipes in the Middleberg Nutrition Test Kitchen.
Package Dimensions: 9.9 x 8.0 x 0.9 inches
Languages: English