Collection: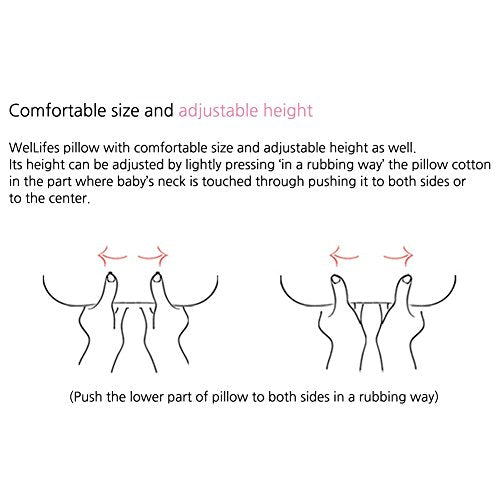 Collection:
W WelLifes Organic Cotton Baby Pillow
W WelLifes Organic Cotton Baby Pillow
Regular price

Sale price

$22.95
CCC: fits perfectly on the peanut changer. make your changing station comfortable for baby so they are happy to be there! 
Features:
SUPER SOFT organic cotton fabric textile cover developed by our own technology will surely complete a downy and snug bedding for your baby in all seasons thanks to its unique soft and warm touch and raising effect. This baby pillow is very hygienic as it has very smooth surface so that dust or baby hair doesn't stick to the surface.
Made by using Organic Cotton Fabric Textiles Cover from USA. Acquired the organic international certification such as GOTS (Global Textile Standard) organic farming certification.
Measures approximately Width 16 X Height 9 inches
Cute baby pillow with concave center for flat head prevention. 100% Hypoallergenic polyester filling.
100% RISK-FREE GUARANTEE – We want to ensure you are getting the best value possible. We are committed to your satisfaction. We hope you are happy with your purchase. When you click the Add to cart button, you have our promise that you'll be satisfied or we'll send you a prompt refund. No questions asked!
Details: The One Secret Pediatricians May Be Keeping From You About Your Baby Your baby Will Love Their Pillow! This amazing organic cotton pillow is just the right size for your little baby. It is so cozy that they will take it with them everywhere! This super soft fabric is certified 100% organic cotton developed by our own technology and it did not use any chemical. It preserved the unique original color of organic cotton. Tree encourages organic life to protect the nature and health of your family and by supplying organic products Hypoallergenic and Washable! This pillow is 100% hypoallergenic, which means it won't contribute to or cause allergies! 100% Handmade! Meticulous stitching and finishing! This product is 100% made with handmade. We have professionals in each area from cutting to sewing. It can't be compared with other low-end products produced in mass by machine. You can feel real value of WelLifes as much as you do the laundry and use it longer.